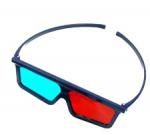 After seeing the Anaglyph stereo pictures made in Google Earth I was sure it could be done on the fly. I searched for a few evenings and found little information, and a lot of frustration, so now I've finally got it working I thought I would knock up a page on how I did it.
I have used Nasa's Worldwind and that does include an anaglyph plugin
(or a java version if that's your thing) but I wanted buildings and a familiar interface.
A quick search finds this demo of TriDef by DDD software.
However it only applies a 3d stereo effect to half the page until you buy it.
I then went and had a look at the Geforce stereo drivers but can't get it to work with GE and no use to you guys on ATI's.
I finally discovered IZ3d who make monitors but also allow you to download the driver which will render Anaglyph stereo on any monitor! The Beta drivers work best.